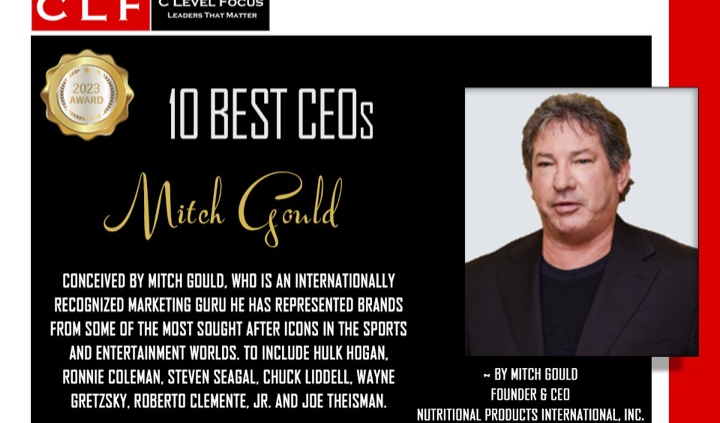 Mitch Gould, the Founder and CEO of Nutritional Products International, Inc. (NPI), has been honored with the prestigious C Level Focus Award for being one of the "10 Best CEOs of 2023." This recognition celebrates Gould's outstanding leadership, entrepreneurial spirit, and remarkable contributions to the retail and international business sectors.
Gould's journey as a third-generation retail expert spans over 35 years, and his vision to revolutionize the industry led to the creation of Nutritional Products International in 2007. His goal was clear: to provide cost-effective knowledge and expertise to small and medium-sized brands, both domestic and international. He recognized the challenges faced by businesses, even those with excellent products, in the highly competitive market.
"I watch the latest retail and economic trends, which benefit our clients as they plan to enter the US market or expand sales here," said Mitch Gould, Founder and CEO of Nutritional Products International. His dedication to staying ahead of market trends has been instrumental in NPI's success.
What sets NPI apart from its competitors is the depth of knowledge and experience that Gould and his team bring to the table. Over the years, Gould has represented well-known companies such as Igloo, Rubbermaid, Sunbeam, Remington, Chapin, Paramount, Miracle-Gro, Native Remedies, Flora Health, and many more. He has secured seven-figure purchase orders with major retailers like Target, Walmart, Lowe's, Costco, Walgreens, 7-Eleven, GNC, and CVS.
Gould's innovative "Evolution of Distribution" system, designed for NPI, combines expert services to boost sales and introduce new brands into the USA. NPI's seasoned team handles all aspects of sales and marketing, shortening the product launch process by focusing on pricing and speed to market. NPI offers a complete, one-stop solution for launching products in the United States, serving as overseas clients' US headquarters.
During the COVID-19 pandemic, which drastically altered retail operations, e-commerce surged, forcing manufacturers to adapt quickly. NPI stepped up to provide the support these businesses needed, with a dedicated sales team, marketing expertise, and logistics solutions.
One significant achievement in Gould's career was collaborating with Joe Mies, the former head of Muscle Foods USA, to supply Amazon's new health, wellness, and sports nutrition categories. This partnership brought well-known brands to Amazon's virtual shelves and marked a pivotal moment in Amazon's history.
Mitch Gould's visionary leadership has not only transformed NPI but also given rise to InHealth Media, a marketing firm specializing in health, wellness, beauty, and sports nutrition. His extensive knowledge of the retail sector, coupled with a team of experts, has allowed NPI to offer comprehensive solutions, sparing clients the costs and complexities of establishing their own presence in the US market.
Mitch Gould's dedication to excellence, his relentless pursuit of innovation, and his unwavering commitment to his clients have rightfully earned him the C Level Focus Award for one of the "10 Best CEOs of 2023." His achievements serve as an inspiration to the entire business community.
For more insights into NPI's revolutionary marketing and distribution strategies, visit www.nutricompany.com.
MORE ON NUTRITIONAL PRODUCTS INTERNATIONAL AND ITS FOUNDER
NPI is a privately held company specializing in the retail distribution of nutraceuticals, dietary supplements, functional beverages, and skin-care products. NPI offers a unique, proven approach for product manufacturers worldwide seeking to launch or expand their products' distribution in the U.S. retail market.
Gould, known as a global marketing guru, also has represented icons from the sports and entertainment worlds such as Steven Seagal, Hulk Hogan, Ronnie Coleman, Roberto Clemente Jr., Chuck Liddell, and Wayne Gretzky.
http://inhealthmedia.com/wp-content/uploads/2023/10/NPI-Award-2023.jpg
512
720
admin
http://inhealthmedia.com/wp-content/uploads/2016/03/ihmlogo-300x104.png
admin
2023-10-17 16:36:21
2023-10-17 09:38:30
Mitch Gould Receives C Level Focus Awards for Top 10 Best CEOs